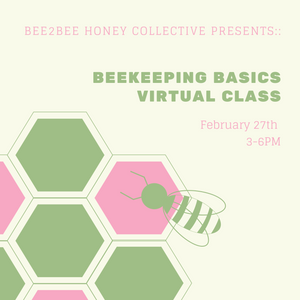 If you are considering bees, have bees on the way or just need the basics: this class is for you! Three hours of bee knowledge! 
Are you a wannabeekeeper or simply have questions about the ins and outs of keeping bees?
In this class we will discuss the biology of bees, bee behavior, practical advice on inspections, annual management and pest management. The class will focus on Houston urban beekeeping and will help you have a successful first year. You'll walk away with more know how of this sweet, rewarding hobby! You'll also get to ask our founder Nicole, who has mentored dozens of Houstonians through their beekeeping hobby. 
Once purchased, you'll receive the recording link. 


This class was recorded February 2021.
Didn't make it to the live broadcast?
Feel free to ask any follow up questions via email. 

If you purchase this class in combination with So.. You Want Bees, you'll get a $10 discount at checkout. 
Infused honey is the result of combining honey and high quality dried herbs or other dried ingredients, plus time, love, and patience. Once the desired flavor profile is reached, we carefully strain the added ingredients.
Creamed honey is a "controlled crystallization" that allows for small crystals to make the honey spreadable instead of the larger crystals of solid, unprocessed honey.