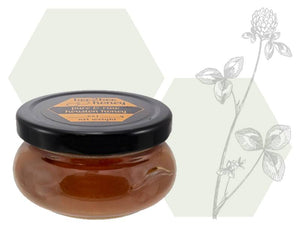 Clover honey is America's most common single-source honey.
White sweet clover is the king of all the clovers.
This clover is grown in Brazoria county, used as cover between crops.
Clover honey tends to have a light buttery yellow or chartreuse color. The aroma is vegetal and floral with notes of warm beeswax, dry hay, grass and cinnamon surrounded by warm flavors of cooked butter and vanilla.
---
PAIRING CLOVER HONEY LIKE A PRO
Expert Honey and Cheese Pairing
Pair your clover honey with a salty sheep milk cheese, a crumbly English cheese.
More Suggestions
Riesling wine, a salad dressing ingredient, and drizzled on ice cream.
Honey Info.
Infused honey is the result of combining honey and high quality dried herbs or other dried ingredients, plus time, love, and patience. Once the desired flavor profile is reached, we carefully strain the added ingredients.
Creamed honey is a "controlled crystallization" that allows for small crystals to make the honey spreadable instead of the larger crystals of solid, unprocessed honey.