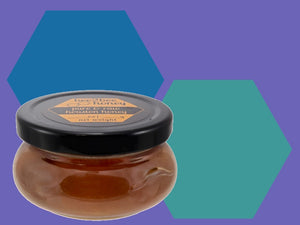 This is spring pollen honey from a mirco urban farm in Garden Villas near Hobby Airport near Gulfgate area of Houston. The single hive is located at Farm of Fancy, offering cut flowers, flower crafts and events. 
Peacocks (and bees!) roam this neighborhood freely.
TASTING NOTES
Light amber in color, delicate and mild on the front, but finishes with enough warmth to pique curiosity. Pair with baked goods or mild cheeses - you'll want the honey to be the star!
Honey Info.
Infused honey is the result of combining honey and high quality dried herbs or other dried ingredients, plus time, love, and patience. Once the desired flavor profile is reached, we carefully strain the added ingredients.
Creamed honey is a "controlled crystallization" that allows for small crystals to make the honey spreadable instead of the larger crystals of solid, unprocessed honey.