Learn Backyard Beekeeping
Our one-on-one learning experience is like no other!
We'll work side by side through the intimidating first year of beekeeping and your first honey harvest. Through the Bee2Bee Honey Collective, we're creating a community of Houston backyard beekeepers who share bee-centric practices, labor and equipment.
**We currently are not taking on new mentorship clients. If you would like to learn to keep bees, we recommend our classes, shadow program and consulting service. If you would like us to recommend a mentor, please contact us! 
For new bees or accomplished 
apiarists!
Committed to learning beekeeping or enhancing your skills?
You're in the right place!
Complete beginners or seasoned backyard beekeepers can learn and grow with our Be a Keeper program.
Bee Mentored with Hands On Experience
The hallmark of our Be a Keeper program is working together in a guided learning experience. With the help of a professional beekeeper, together we'll set up a bee hive, install bees, teach you how to maintain your hive, and have regular checkups through your first year and honey harvest. We'll continue the mentorship program until you're comfortable to take care of your bees on your own.
Getting Started
Schedule an initial phone consultation and onsite inspection.
Please note: we are currently only servicing inside the Sam Houston Tollway. However, if you live outside of the tollway, we can still help you with classes, consultations or recommend a beekeeper that lives closer to you. 
Together we'll discuss the Be a Keeper program, your goals and desire to become a beekeeper, and realistic expectations. We will then schedule a site visit to the property and determine a location for the beehives.
Bee2Bee Beekeeper Shadow Program
Beyond our mentorship program, classes and consulting, we do offer the opportunity to have aspiring, new and experienced beekeepers shadow us at beekeeping appointments, honey harvesting, bottling, at farmers markets and more. It's a great way to be exposed to beekeeping and the back-end of the Collective. Please fill out a contact form if you're interested in joining the shadow program and we'll send you a weekly schedule of opportunities. 
FAQ | CONTACT
For Residential & Commercial Beekeeping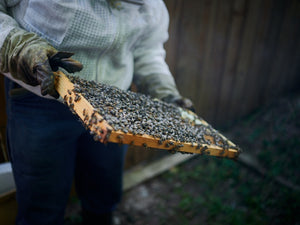 RESIDENTIAL
A Helping Hand for your Hives
We can do one-time or intermittent services like hive inspections, splits, heat treatments, harvesting, and even bottling your honey.
[
Beekeeper Consulting
]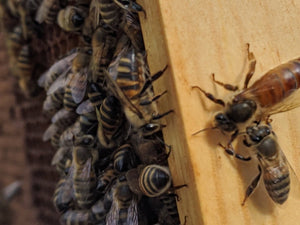 Commercial & Nonprofit
Full-Service Beekeeping
From hive installation and routine checks to harvesting and bottling. We can do all the work to maintain your honey bee hive.
[Learn More]
Choosing a selection results in a full page refresh.
Press the space key then arrow keys to make a selection.