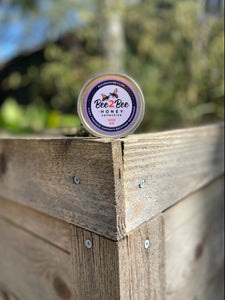 Our moisturizing balm is a great gift and made with local Houston beeswax.
Using a moisturizing balm is a great and natural way to keep your skin hydrated. Use anywhere you have dry skin: chapped lips, peeling cuticles, dry patches on your elbows, knees, feet... anywhere!
Comes in a convenient tin that will easily fit in your pocket, purse or makeup bag without sweating. A very dense balm in which a little bit goes a long way - you can easily apply this daily for months.
Made with only four ingredients:
olive oil
local Houston beeswax
shea butter
essential oil 
Infused honey is the result of combining honey and high quality dried herbs or other dried ingredients, plus time, love, and patience. Once the desired flavor profile is reached, we carefully strain the added ingredients.
Creamed honey is a "controlled crystallization" that allows for small crystals to make the honey spreadable instead of the larger crystals of solid, unprocessed honey.