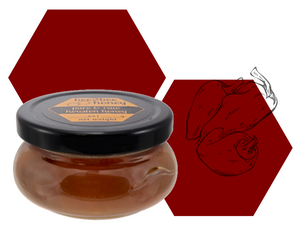 Beekeeping in the cruel, humid Houston summer is an experience: the bee suit which adds 10-20 degrees, the "wall" of humidity, the sweat, the stinging insects, the can of fire in your left hand/metal tool in your right… it's quite unpleasant. The warmth from this infusion on the other hand- extremely pleasant. We are loving the smoky flavor of these chiles! 
Nicole picked up these dried chipotle chiles on a trip out to Hatch, New Mexico. Team Bee2Bee took dried chiles and steeped them in our local honey for months and months and this is the result. With both spicy honey and beekeeping: it takes an incredible amount of patience, but when the heat meets the sweet, it makes all the sweat and pain worth it. The smokiness reminds us of the beeyard; this honey evokes beekeeping like no other! 
This hot honey is great for barbeque sauce, paired with mezcal, on chicken wings and more. It's great to bring a sweet and smokey heat to veggies, protein or blue cheese. 
Stay hydrated, take plenty of breaks and think of us beekeepers when breaking a sweat this summer! 

---
PAIRING CHIPOTLE INFUSED HONEY LIKE A PRO
Expert Honey and Cheese Pairing
Pairs well with cream cheese or a blue
Sweet Suggestions
Add chipotle 
honey to pizza!
Potent Potables
Try pairing chipotle with mezcal
Honey Info.
Infused honey is the result of combining honey and high quality dried herbs or other dried ingredients, plus time, love, and patience. Once the desired flavor profile is reached, we carefully strain the added ingredients.
Creamed honey is a "controlled crystallization" that allows for small crystals to make the honey spreadable instead of the larger crystals of solid, unprocessed honey.