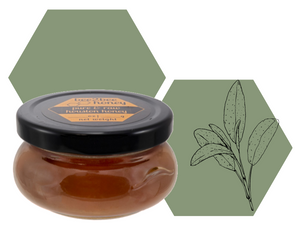 An herbal infusion of local honey that we're crazy about!
We took rubbed sage leafs and steeped them in our local wildflower honey for this herbal concoction perfect for culinary and medicinal use. 
Sage-infused honey is incredibly useful for when you feel under the weather- either by itself or in tea. Other great uses for this honey include: chicken, salad dressing, sausage, roasted nuts, fruit, ice cream and so much more. It is great in a gin cocktail and can really classy up a charcuterie board. In fact, out of all the infusions we've made over the years, I think this one can go with any type of cheese: fresh ricotta, brie, tomme styles, alpine styles, blues - any type of milk, any type of cheese. It's truly the most versatile "cheese honey" I know. 
---
PAIRING ##NAME OF PRODUCT ## LIKE A PRO
Expert Honey and Cheese Pairing
Pairs well with every cheese imaginable
Sweet Suggestions
Drizzle on a sausage biscuit
Holistic Helpers
Sage is known to ease sore throats
Honey Info.
Infused honey is the result of combining honey and high quality dried herbs or other dried ingredients, plus time, love, and patience. Once the desired flavor profile is reached, we carefully strain the added ingredients.
Creamed honey is a "controlled crystallization" that allows for small crystals to make the honey spreadable instead of the larger crystals of solid, unprocessed honey.