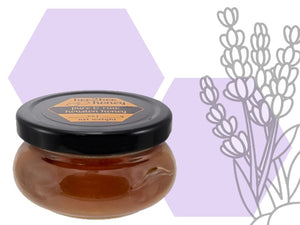 Lavender-infused honey is a local honey with added lavender essence, which embodies a floral kick that lends itself particularly well to honey.
---
PAIRING LAVENDER-INFUSED HONEY LIKE A PRO
Expert Honey and Cheese Pairing
Drizzle on fresh chvre.
Sweet Suggestions
Mix in with homemade ice cream, lattes or on simple baked goods.
Holistic Helpers
Enjoy lavender honey by itself spoonful just before bed or in stressful situations for its calming effects.
Honey Info.
Infused honey is the result of combining honey and high quality dried herbs or other dried ingredients, plus time, love, and patience. Once the desired flavor profile is reached, we carefully strain the added ingredients.
Creamed honey is a "controlled crystallization" that allows for small crystals to make the honey spreadable instead of the larger crystals of solid, unprocessed honey.