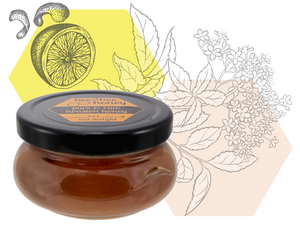 We take local Meyer lemons (sliced, zested and dehydrated), elderflowers and steep them in local honey for several months. The citrus zing pairs well with the flowery finish - it comes off like an alcohol-free St. Germain Lemon Drop.

The first time we did this honey in 2018, I had no idea it would coincide with the Royal Wedding of Harry and Meghan - who had chosen a Lemon Elderflower wedding cake - making it an extremely trendy flavor combination. 
What to do with this honey: drizzle it on desserts and biscuits. Would be excellent during a high tea or in a cocktail. It pairs well with strawberries. And of course: wedding cake! 
Use it in cocktails! 
---
PAIRING ELDERFLOWER-INFUSED HONEY LIKE A PRO
Expert Honey and Cheese Pairing
Pairs well with a soft-ripened goat cheese
Sweet Suggestions
Love it in tea or on strawberry shortcake.
Holistic Helpers
Very soothing on sore throats. 
Honey Info.
Infused honey is the result of combining honey and high quality dried herbs or other dried ingredients, plus time, love, and patience. Once the desired flavor profile is reached, we carefully strain the added ingredients.
Creamed honey is a "controlled crystallization" that allows for small crystals to make the honey spreadable instead of the larger crystals of solid, unprocessed honey.