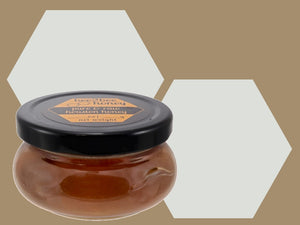 Meyerland is the center of Houston's Jewish community and was heavily flooded during Hurricane Harvey.
These hives (and their owners) were thankfully on higher ground and have been thriving since.
Honey is important to the Jewish tradition; particularly Rosh Hashanah, the Jewish New Year. Eating symbolic foods is part of the celebration, such as apples dipped in honey, hoping to evoke a sweet new year.
Honey Info.
Infused honey is the result of combining honey and high quality dried herbs or other dried ingredients, plus time, love, and patience. Once the desired flavor profile is reached, we carefully strain the added ingredients.
Creamed honey is a "controlled crystallization" that allows for small crystals to make the honey spreadable instead of the larger crystals of solid, unprocessed honey.