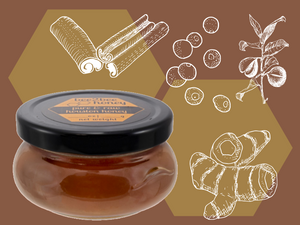 It's fall y'all! And is it even officially autumn without pumpkin spice? 
We use a local creamed honey base and mix in cinnamon, ginger, nutmeg and allspice to make this honey "pumpkin spice." 
This honey is perfect for fall themed dishes: think squash, apples and desserts. It's lovely with roasted root vegetables or in a curry. You could make honey butter and spread it on your pumpkin pancakes or Indian corn. Heck, you may even mix it into your latte! 
So, this one is for all the basic bees out there! Get your boots, scarves, and sweaters ready because we will need to fake it until we make it fall.  Enjoy it for yourself or if it's not your thing, give it to your mom, your niece or whoever is buying all those PSLs! Let's make autumn happen. 
---
PAIRING PUMPKIN SPICE CREAMED HONEY LIKE A PRO
Expert Honey and Cheese Pairing
Pairs well with nutty alpine cheese or aged gouda. 
Sweet Suggestions
Spread Pumpkin Spice Creamed honey on a morning pastry!
Holiday Helper
Excellent on sweet potatoes or carrots for an outstanding Thanksgiving side dish.
Honey Info.
Infused honey is the result of combining honey and high quality dried herbs or other dried ingredients, plus time, love, and patience. Once the desired flavor profile is reached, we carefully strain the added ingredients.
Creamed honey is a "controlled crystallization" that allows for small crystals to make the honey spreadable instead of the larger crystals of solid, unprocessed honey.