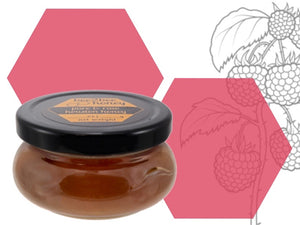 The added organic raspberry infusion to the local honey base is a decadent and tart honey - perfect for special occasions.
---
PAIRING CREAMED RASPBERRY HONEY LIKE A PRO
Use it wherever you would use raspberry jam!

Expert Honey and Cheese Pairing
Pairs well with fresh cheeses like chevre, brie or a strong, bloomy goat cheese.
Sweet & Savory Suggestions
Cheesecake, ice cream, grilled melts, balsamic vinaigrette reduction sauce.
Honey Info.
Infused honey is the result of combining honey and high quality dried herbs or other dried ingredients, plus time, love, and patience. Once the desired flavor profile is reached, we carefully strain the added ingredients.
Creamed honey is a "controlled crystallization" that allows for small crystals to make the honey spreadable instead of the larger crystals of solid, unprocessed honey.