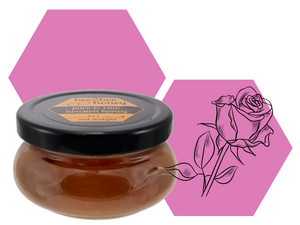 Rose-infused honey is a sweet and fragrant treat that combines the natural sweetness of honey with the delicate and floral flavor of roses. We create this honey by steeping culinary rose petals in our local honey for several weeks until the floral flavor presents in the honey. Roses have been used in culinary creations for centuries and their unique flavor and aroma make them a popular ingredient in many dishes.
This honey can be used from everything to pastries, tea, cockails, ice cream and more! 
---
PAIRING ROSE-INFUSED HONEY LIKE A PRO
Expert Honey and Cheese Pairing
Pair rose-infused honey with soft cheeses like brie or camembert for a sophisticated and delicious appetizer.
Sweet Suggestions
Drizzle rose-infused honey over sliced strawberries, figs, or peaches for a sweet and fragrant dessert.
Tea Time
Stir rose-infused honey into rose tea for a powerful flavorful combination.


---
RECIPE: ROSEMARY & ROSE GIN FIZZ
Ingredients:
2 oz gin
1 oz freshly squeezed lemon juice
1/2 oz rose-infused honey
1 sprig fresh rosemary
1 egg white
Club soda
Ice
Instructions:
In a cocktail shaker, combine the gin, lemon juice, rose-infused honey, and the leaves from the rosemary sprig.
Add ice to the shaker and shake vigorously for about 10 seconds.
Strain the mixture into a glass and discard the rosemary leaves.
In the shaker, add the egg white and shake again for about 10 seconds to create a frothy foam.
Carefully pour the foam on top of the cocktail in the glass.
Top with a splash of club soda and garnish with a sprig of fresh rosemary.
Serve and enjoy!
This cocktail is perfect for a summer evening and the floral notes of the rose-infused honey complement the herbal flavor of the rosemary and the tartness of the lemon juice. The frothy egg white adds a velvety texture to the drink, making it a delicious and refreshing sipper.
Honey Info.
Infused honey is the result of combining honey and high quality dried herbs or other dried ingredients, plus time, love, and patience. Once the desired flavor profile is reached, we carefully strain the added ingredients.
Creamed honey is a "controlled crystallization" that allows for small crystals to make the honey spreadable instead of the larger crystals of solid, unprocessed honey.