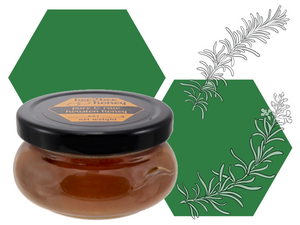 Pure Houston honey infused with rosemary! 
Use this rosemary-infused honey on proteins and root vegetables, in a vinaigrette or in a cocktail. It will make any cheese festive, but I particularly like it with a wood-wrapped vacherin-style cheese (Rush Creek Reserve or Harbison is found at most cheese shops). I find the piney aroma of rosemary evokes the holiday spirit unlike any other honey! 
---
PAIRING ROSEMARY-INFUSED HONEY LIKE A PRO
Expert Honey and Cheese Pairing
Pairs well with vacherin-style cheeses or Spanish sheep-milk cheeses.
Sweet Suggestions
Add rosemary-infused honey as a glaze on chicken. 
Potent Potables
Mix with vodka, lemon juice and soda for a lovely cocktail! 
Honey Info.
Infused honey is the result of combining honey and high quality dried herbs or other dried ingredients, plus time, love, and patience. Once the desired flavor profile is reached, we carefully strain the added ingredients.
Creamed honey is a "controlled crystallization" that allows for small crystals to make the honey spreadable instead of the larger crystals of solid, unprocessed honey.